XYverify Joins US FinTech Accelerator SixThirty Inaugural Class


ST. LOUIS, MO. October 31, 2013—XYverify has been selected to join the inaugural class of St. Louis-based financial technology (FinTech) accelerator SixThirty. XYverify is one of four companies chosen by SixThirty to receive funding, mentorship and direct connections to the top U.S. financial service providers.
SixThirty is led by a team of technology and finance veterans, including Square co-founder Jim McKelvey. The program offers unique access to the critical mass of US financial service companies, including Scottrade, Bank of America, US Bancorp CDC, MasterCard and many others.
SixThirty provides FinTech startups with funding, mentors, and connections to the top financial services companies in the country. Backed by the St. Louis Regional Chamber and venture capital firm Cultivation Capital, SixThirty companies selected take part in a four-month accelerator program with hands-on training, mentoring, and networking opportunities with the top financial services companies in the region. For more information about SixThirty, please visit www.sixthirty.com
---
XYverify Gets First New Jersey Online Gaming Geolocation Verification Service Approval


ATLANTIC CITY, N.J. (BUSINESS WIRE)—October 28, 2013—XYverify Corp. received transactional waiver approval to provide geolocation verification services to licensed online casinos in New Jersey.
XYverify geolocation is vital in enabling gambling companies to take advantage of online casino gaming expansion opportunities to comply with regulatory requirements in US iGaming market. The law requires verification that an iGaming customer is physically located in New Jersey before the customer is allowed to play. XYverify provides this vital service utilizing carrier-secured location of mobile phones.
The state of New Jersey is set to lead the way in mobile casino play. The conditional waiver enables XYverify to enter into contracts to provide services to all licensed mobile casino operators entering the new regulated market in New Jersey. XYverify is already licensed in Nevada with a Class II license by the Nevada Gaming Control Board. With today's NJ approval, XYverify is ready to support licensed NJ gaming operators and internet gaming solution providers with geo-verification services supported by proven LocationSmart® technology.
---
XYverify™ and LocationSmart® Enhance Consumer Gaming Experience and Operator Revenues


New context aware triggering and alerts for mobile gaming optimize CRM and customer loyalty programs for indoor use.
SAN FRANCISCO, April 22, 2013 – XYverify Corp, a Nevada Gaming Board (NGB)-licensed geolocation service provider, today announced a strategic market alliance with LocationSmart, a leader and innovator in mobile location technologies and services.
The breakthrough XYverify platform integrates trusted location verification and presence detection with two-way messaging to easily communicate with players in new and interactive ways. The platform reinforces both CRM and loyalty programs with hyper-local intelligence and real-time transaction validation.
XYverify has selected LocationSmart to provide its global location services to gaming technology providers for real-time wagering approval. Different from other mobile geolocation platforms, XYverify location verification works within licensed casino-branded environments. This provides a better experience that is tailored to an enrolled player's current verified location – indoors or outdoors.
The boundaries for each gaming property can be easily geofenced and stored, along with the appropriate business rules to approve or deny a transaction. This significantly expands the ability to enhance and audit mobile wagering applications – whether they're on-site or in an approved gaming area.
XYverify enables a transformational approach to mobile casino and intrastate lottery gaming, where promotional messaging and wagers can be securely linked based on the verified player's location. This technology is a key enabler for driving adoption of mobile gaming applications and improves the online and in-venue experience for casino operators and their players.
The APIs and device-based location SDK can be used as standalone applications or in combination with existing third-party resources. Interactive game developers access services through a single web services interface that provides a tremendous cost and time-to-market advantage. Enhancing this suite of APIs with global Wi-Fi location databases opens up a host of hyper-local use cases, where on-site targeting and location-based communications are needed.
"It's a new way to build loyalty across land-based and online casino gaming operations. Lottery-dispensing locations and gaming operators can – for the first time – create ancillary loyalty and revenue-driving opportunities by bridging iGaming mobile apps with casino-branded ventures," said Elliot Klein, XYverify Founder and CEO. "This provides a trigger to communicate deals and feature customer-specific products or news to increase sales and bottom-line results for a specific visit and the lifetime value of the relationship."
"This partnership brings our industry to a pivotal point. As New Jersey, Delaware and Nevada look to innovate, XYverify is empowering new service features that make mobile device play and interaction with licensed casino gaming and lotteries a better experience – in-venue or everywhere they are licensed to serve," noted Klein.
"Enabling mobile applications with trusted location validation and on site presence detection makes it easier for lottery and casino brands to deliver the ultimate gaming experience with venue-specific offers," said Mario Proietti, LocationSmart CEO. "We are excited to be working with XYverify to link different parts of the customer experience with real-time trigger-based messaging to drive new revenue, satisfaction and increased loyalty levels."
XYverify was selected as a GiGSE "LaunchPad" presenter to showcase its award-winning solutions, on April 24th to leading gaming operators and investors.
---
Pitney Bowes Entrepreneurial Competition Winner


STAMFORD, Conn., Nov. 26, 2012 --- Pitney Bowes Inc. (NYSE: PBI) today announced XYverify as winner of the Pitney Bowes Entrepreneurial Competition, an innovation-focused competition. The Pitney Bowes Entrepreneurial Competition is designed to identify and drive the development of growth businesses that can leverage the Company's Spectrum® Spatial analytics and location intelligence technology.
The Pitney Bowes Entrepreneurial Competition creates connection opportunity for XYverify to explore new business opportunities built upon Pitney Bowes technologies and capabilities within the digital and physical customer communications management arena, with the goals of increasing opportunities for collaboration and stimulating economic growth.
"Pitney Bowes's heritage of innovation is based, in part, on the collaboration between Arthur Pitney and Walter Bowes," said Joe Timko, executive vice president and chief technology and strategy officer, Pitney Bowes. "We want to continue to help drive innovation through collaboration – in our communities – and beyond. We are pleased to open up some of our key technology offerings that entrepreneurial teams can build a business upon, to further drive innovation and stimulate economic growth."
For details visit: Pitney Bowes Entrepreneurial Competition
---

Among 15 most innovative firms providing banking solutions
OSAKA, JAPAN, November 2, 2012 – XYverify selected by the 9,000 member international SWIFT financial
service community vote to present at SWIFT Innotribe meeting in Japan, among top companies around the world with innovative solutions for banking. The Company was named after review of 400 innovators by a panel of expert investors and financial industry professionals in Europe, the Americas and Asia, to represent the most important products and services for the financial sector.
---
XYverify Launches Indoor Location, Creates Sensor Network Location Platform Combining Cell Tower Identification with Latest Smartphone Microprocessors
NICE, FRANCE, October 2, 2012 – XYverify, the "Proximity to Transact" geolocation service, today launched Indoor Location, a new geolocation platform to determine location of any Internet-connected device through the combination of network cell towers and mobile device sensors. This combination further strengthens capability to authenticate person or device's physical location, adding trustworthy and accurate indoor location determination to better authenticate transactions critically important for mobile payments, real-money gaming, fraud prevention, digital rights management, cyber security and compliance. XYverify showcased its solutions to semiconductor leaders at SAME 2012, a major European electronic innovation conference on microelectronics.
---
August 15, 2012 – XYverify 2012 PYMNTS.com Innovator Award - XYverify together with Square and PayPal named winners of the 2012 PYMNTS.com Innovator Awards. The judging panel of David Evans and Karen Webster of Market Platform Dynamics, joined by: Hans Morris, General Atlantic; Dan Rosen, Highland Capital Partner; Dick Schmalensee, MIT Sloan School; and Matthew Witheiler, Flybridge Capital Partners, narrowed the 130 nominations to honor XYverify as "Most Invisible," echoing Jack Dorsey's belief that next step for tech lies in concepts of sending information only when relevant and do not require one to have an app or site open. XYverify confirms geolocation without any app or software code download onto mobile device for payment and emerging real-money interactive casino gaming transactions.
---
March 28, 2012 -- The Merchant Risk Council (MRC), a global merchant-led trade association, has announced XYverify as the finalist for the 2012 MRC Emerging Technology Awards (METAwards), which recognize the most innovative payment, fraud and security tools in electronic commerce - as judged by a diverse panel of online and multi-channel merchants.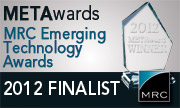 METAward finalists selected by the merchant judging panel, are viewed as being at the forefront in helping online and multi-channel merchants mitigate online payment risks, and advancing the MRC's vision of making electronic commerce more efficient, safe and profitable. The merchant judging panel is comprised of representatives from some of the top leading brands.
---
February 23, 2012 -- XYverify Corp. has been selected by SWIFT as one of the "world's most promising and disruptive FinTech and Financial Services Innovators!", as well as an Innotribe Challenge semi-finalist. The Company will present to a global community of over 9,000 financial institutions, venture capital firms, angel investors and influencers in New York City.
XYverify Awarded U.S. Patent for Mobile Transaction Authentication and Geolocation Technology
Delivering Key Mobile Cloud Location Services—Transaction Approvals, Voting and Polling
XYverify Corp., leading a new way to reduce costs around high-risk transactions that allow financial institutions to apply an additional geolocation authentication step with a cloud-based API platform, announced that the U.S. Patent and Trademark Office (USPTO) issued its patent for authenticating mobile location with voting, polling and other transactional platforms—including services and bank or credit card network authorization processing.
The patent describes methods that create a location-based authentication platform for transactions, polling and voting, based on securely determining the relative location of a mobile device and its reported proximity distance range to a defined postal mail address lat/long GPS coordinates. By comparing results to stored address distance range and other permissions stored in XYverify cloud-based server, transactions can be validated and verified to reduce fraud.
The XYverify Platform-as-Service integrates innovative and hybrid mobile network phone and tablet location into the authentication process. Attempts to access a voter ballot or complete a transaction at a location too far from a geofenced distance range (combined with other rules and permissions) can be flagged for additional verification or be denied.
For the first time, the API platform delivers Fourth Factor authentication adding 'where you are' AND 'who you are' credentials. The solution also applies novel approaches to tap SIM card authentication and data from mobile sensors for better indoor position reporting using magnetometer, altimeter, or gyroscope sensors and their processor chips to authenticate a device's geographical location.